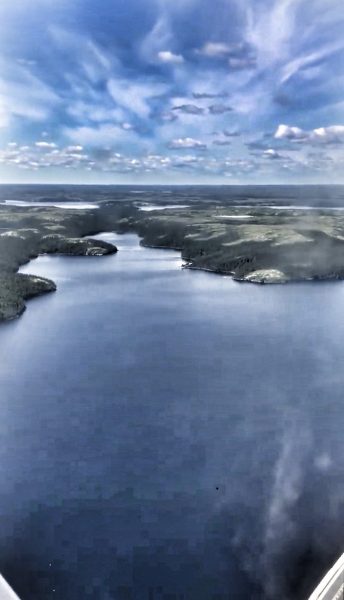 You will discover five different species of salmonids which are unique to Quebec. They are the salmon, the ocean trout, the landlocked salmon, the arctic char and the brook trout.
Our main lake is the most impressive with 100 km of shoreline. It branches into six other lakes (10-15 km each) where a river flows on 28 km into the ocean. With the immensity of the territory and, the diversity of species present in each tributary and lake; your fishing expedition opens to many options.
To access the main lake, we calculate by boat from the lodge to the lake approximately 90 minutes, and then we have two portages not too steep to cross on a distance of about 800-900 feet. The scenery is breath taking!
In all to get the best of your experience, we have 14 fiberglass boats measuring 14 feet long equipped with new 9,9 hp to 25 hp motors.
If you don't have any fishing gear, don't worry. We have at your disposal all the needed accessories and gear which you can use under certain conditions.
N.B.: We limit our reservations to approximately 100 guests annually to provide 5 star service and keep this unique site as it is.
Pleased to welcome you,