In river
The salmon river is unique and it is composed of several bits of a river and a chain of lakes on 28 km (only fly fishing is allowed in the river, see the information section to know what type of fishing rod is better to bring). It is possible to catch all the species present here, but mainly salmon and sea trout. 8 pool arranged as a trail from the sea over a distance of 8 km.
Since the river is not very wide (at most 100 feet wide at some point), it is easy for a novice fisherman to become familiar with fly fishing. Our experienced guides will assist you as needed. The material is available if you do not have one (ask about the conditions).
In lake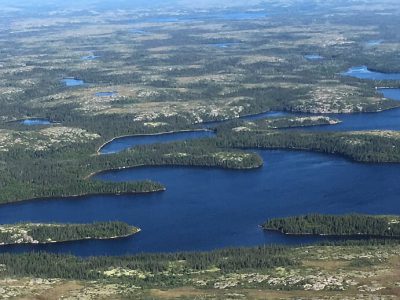 What sets us apart from salmon outfitters only: it's a paradise of salmonids on the Lower North Shore! It's a unique place given the variety of catches and formats. In addition, at any time you will have the opportunity to catch your record fish and we encourage you to release 20 inches (50.8 cm) fish and overall species combined * with the exception of salmon where the limit allowed is 60 cm and under because they are usually the best spawners.
The catch and release fishing will be numerous given the fish-bearing waters in our immense territory and without fishing pressure since the existence of the outfitter (there are only native fish)…
Species
Atlantic Salmon: Average size 3-5 lb. Grils and large salmon 8-15 lb. (allowable quotas 1 small below 60 cm)
• Sea trout: Medium size 2-5 pounds (allowable quota 2 below 20 inches)
• Brook Trout: Medium size 1.5 -2 lb, large size 3-5 lb (allowable quotas 20)
• Ouananiche: Average size 3-5 lb., large format 7-8 lb (allowable quotas 6)
• Arctic char: 3-5 lb. average size, 10-12 lb. big size (allowable quotas 3)
The opening of our fishing season is June 1st and closing is September 15th.
Rates & packages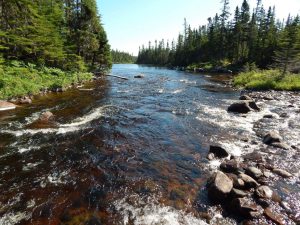 Only one rate available: 4 nights-5 days, 2 x double occupancy minimum and according to a schedule already established. Contact us to inquire about availability.
Your arrival at 8:00 am is by seaplane from the seaplane base at Natashquan (about 20 minutes' flight to the inn).
• $ 2400 / person plus taxes.
• Children under 12 years old get 50% off.
• A fishing guide is included per duo.
• The seaplane is included in your package.
• Different types of boats: Freighter, fiberglass boat with a motor (9.9 hp 15 hp and 25 hp) and gas is included…